Little Egypt Math Week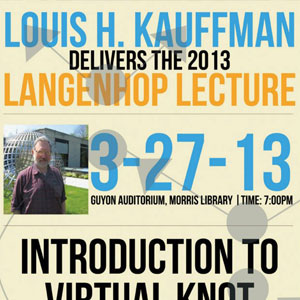 618-453-5302
Little Egypt Math Week began in 2012 to spread awareness of the importance of math with students and the community. The events include Math Field Day, Saluki Scavenger Hunt, Math Video Challenge, and the annual Langenhop Lecture.
Math Field Day | Each Spring, the Mathematics Department sponsors a mathematics contest, called Math Field Day, for regional high school students. Schools from the southern part of Illinois, ranging from Edwardsville to Massac County, as well as a few schools from Missouri and Kentucky participate.
The Saluki Scavenger Hunt | The scavenger hunt involves the RSO teams solving a series of mathematical clues that lead to offices around campus. They will have to go in order (Office 1-2-3-4), and each office will provide the RSO's with the next clue they will need. The first clues will be handed out at the noon meeting in the auditorium. The Math puzzles involved use nothing more than standard arithmetic, and require more cleverness than sophisticated math techniques. All of the rules and directions will be explained at the meeting, but they are very simple.
The Math Video Challenge| We use social media to connect with students from all over. A Challenge problem designed by one of the faculty members is posted on the Department's Facebook. The first student or group to upload their video with the challenge's solution wins the prize.
Langenhop Lecture | The Langenhop Lectures are funded by on of our very own Carl Langenhop. He has generously funded these lectures for years.